See your culinary visions come to life with the Celeste Cookware & Bakeware Set. Combining harmonious technology and unique colors, this set features:
Aqua-Tech™ water-based nonstick, multi-layer coating made without PFOA
Soft-touch ergonomic handle for worry-free cooking and comfort
Heavy-gauge aluminum construction for reinforced durability

 

Gas, electric, ceramic, halogen & induction cooktop compatibility

 

Bakeware is oven safe up to 536*F/280*C

 

Vented glass lids to see contents while cooking
Matte speckled finish
Care & Use: Hand wash recommended for product's longevity. Wash before first use.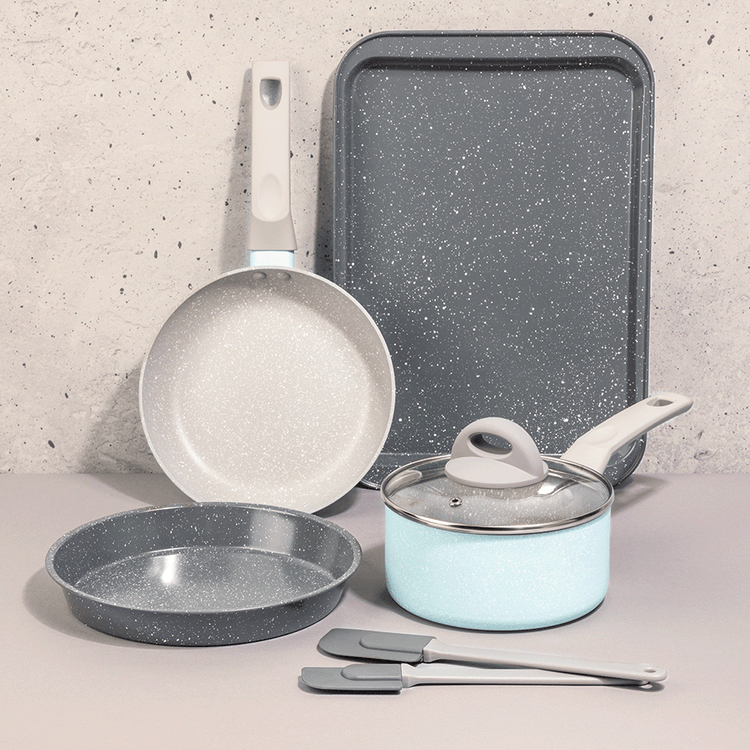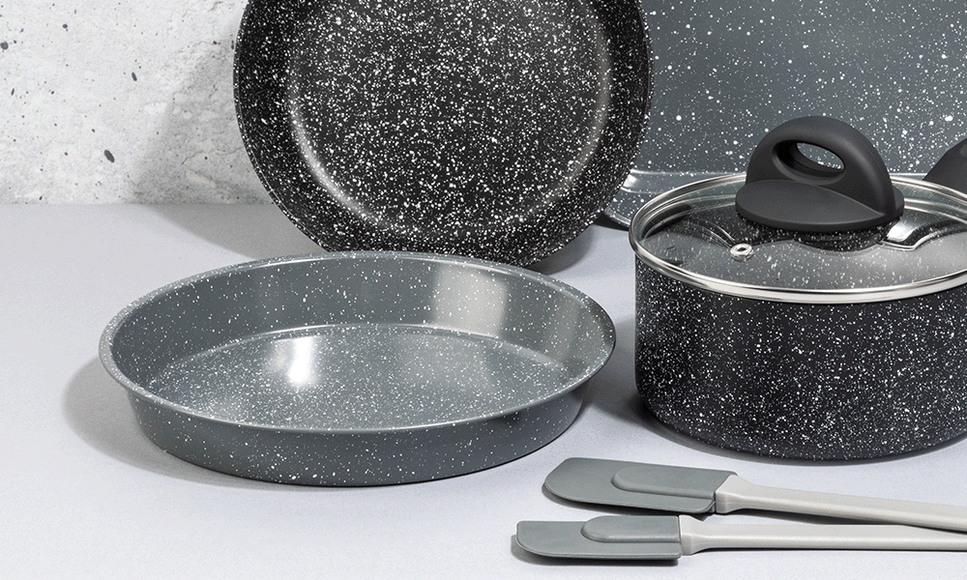 what's inside the box?
Fry Pan

• Shallow sides and small surface area made for crisping up with less oil and no stick
• Uses: frying eggs, pancakes, toasting nuts and spices, and anything small but mighty

Saucepan

• Get saucy with this pan's small surface area and high sides
• Comes with matching vented glass lid
• Uses: boiling pasta, small-batch sauces and soups, and steaming rice

Saucepan Glass Lid

• Vented to release steam
• Offers view of contents while cooking

Cake Pan

• 10 in (25.4 cm) diameter for perfectly round cakes
• Warp-resistant design with rolled edges for stability and long-term use
• Oven safe up to 446°F (230°C)


Baking Sheet

• 10 in (25.4 cm) diameter for perfectly round cakes
• Warp-resistant design with rolled edges for stability and long-term use
• Oven safe up to 446°F (230°C)


Large Spatula

• Made of durable silicone
• Perfect for folding batter, sauteing stir-frys, and stirring sauces
• Gentle enough to use on nonstick cookware and bakeware


Mini Spatula

• Made of durable silicone
• Perfect for scrambling eggs and scraping the sides of jars and mixing bowls
• Gentle enough to use on nonstick cookware and bakeware